London Food Month
From 1 June 2017 to 30 June 2017
About
Treat your taste buds to a month-long feast of food and drink as London Food Month sets up home in the capital for the first time.
Packed full of food-focused events, street food markets, cooking demonstrations from top chefs and special restaurant offers across London, this new festival hosted by the Evening Standard is a must for all foodies.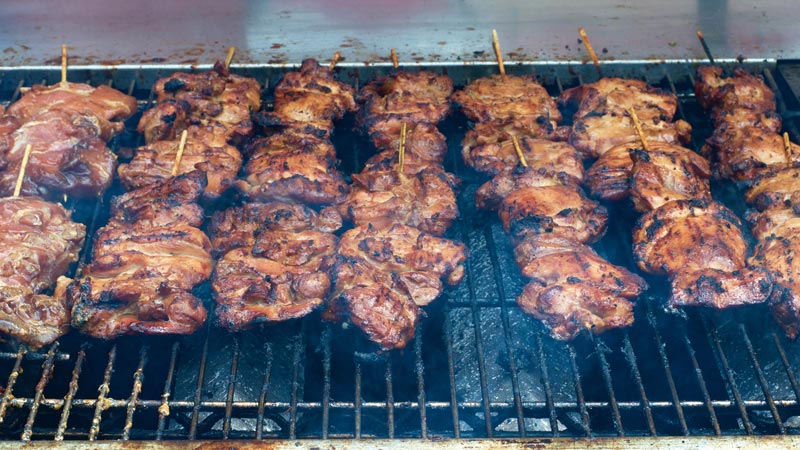 London Food Month Night Market
See famous chefs in action, and explore stalls from some of the best restaurants and emerging eateries on London's food scene at the London Food Month Night Market. Taking place from 7-18 June, at Perks Field in Kensington Palace Gardens, it gives you the chance to…
Tuck into street food from some of London's top vendors; including West African dishes from Zoe's Ghana Kitchen, Caribbean creations from Mama's Jerk Station, sweet treats from Muffin Man & Co. and more. 7-18 Jun
Delve into delicious dishes from a selection of the city's top restaurants: share small plates at Salt Yard, get messy with Smokestack, enjoy Peruvian specialities from Ceviche, or bite into one of Patty & Bun's juicy burgers. 7-18 Jun
Try one of the tempting cocktails on offer at the World Class Craft Bar, or whisky-based creations from the Bulleit Bourbon Woody trailer. 7-18 Jun
Join one of the Bloody Mary masterclasses at Ketel One Vodka Kitchen, which also serves espresso martinis late into the night. 7-18 Jun
Watch evening films such as Back to the Future or Star Wars: The Force Awakens, or take the kids to matinee screenings of Disney and Pixar films at Westfield's open-air cinema. 7-18 Jun
Key London Food Month Events
You'll find London Food Month events throughout the city during June, from masterclasses and tours, to street parties. Don't miss the opportunity to…
Join a cooking or cocktail masterclass during the Food Truck Festival at Westfield London (1-4 Jun) and Westfield Stratford City (22-25 Jun).
Grab a seat at Carnaby's street party, when the iconic shopping area's restaurants will be putting on a free food festival in the open air. 3 Jun
Eat like a local in Chinatown with a guided culinary tour of the area's vibrant streets, restaurants and dishes. 17 Jun
Tour Borough Market with Michelin-starred chef Daniel Galmiche, before he creates a special meal from the ingredients he's bought, at The Gore Hotel. 7 and 21 Jun
Mix food with designer threads at the Seven Dials Fashion Feast, featuring shopping and beauty activities, live music and a chefs' demo kitchen. 10 Jun

Learn from leading mixologists from two of the world's best bars, Oriole (11 Jun) and Dandelyan (17 Jun), during cocktail masterclasses with food pairings.
Watch top biscuit-makers in action while you sip prosecco at a Biscuiteers Icing Café masterclass. 15 Jun
Top London Food Month Meals
Make the most of special offers, or tuck into one-off menus and unusual meals throughout June. Here's just a taster of what to sink your teeth into…
Let the kids feel like grown-ups at Tredwells, with a child-only seven-course tasting menu –  they'll even have a chance to go in the kitchen to meet the chefs afterwards. 1-30 Jun
Be one of the lucky 120 people to have a long lunch at St John as head chef Fergus Henderson pulls together his most iconic dishes. 3 Jun
Enjoy a dinner from up-and-coming star chefs handpicked by London Food Month at Claude Bosi's Chelsea restaurant, Bibendum. 27 Jun
Hop aboard London Shell Co.'s canal boat for a seven-course meal along Regent's Canal. 6, 13, 20 and 27 Jun
Head up into the sky to enjoy a four-course meal in one of the Emirates Air Line cable cars, hosted by TV chef Jimmy Garcia. 8 Jun
Go on a culinary adventure through dark and historic London with The London Dungeon's Lates With More Bite menu. 15 and 30 Jun
Take your own ingredients to Hotel Café Royal (weekdays, except 21-18 Jun), where chefs create a meal especially for you. Alternatively, hand over your leftover vegetables to Surplus Supper Club (various dates) for its talented team to conjure up everything from pickles to bread.
Savour a three-course dinner during Fortnum & Mason's candlelit Midnight Food Hall Feast. 30 Jun
Read more from original article
If you need a place to stay for a few nights, visit the NX LONDON Hostel and check out our accommodations.