David Hockney exhibition until 29 May 2017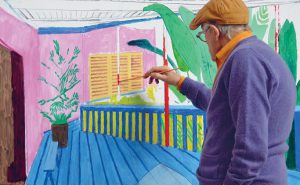 One of the most beloved English pop art painters, David Hockney, is making a spectacular come back for a once-in-a-lifetime opportunity to see his unforgettable works. This spring, visit the Tate Britain in London to enjoy an extensive selection of Hockney's most famous paintings as well as exclusive new work that will, for sure, be an unmissable experience to get to know the British icon.
Tate Britain, the home of British art from 1500 to the present day, has extended opening house for David Hockney: Open until 22.00 every Friday and Saturday (David Hockney exhibition and exhibition shop only)
OPENING TIMES
Monday to Sunday 10.00 – 18.00
LOCATION
Millbank, London, SW1P 4RG
For directions to Tate Britain, please click here.
COST
Free entry
For more detailed information please click here.